Mental Health First Aid Course -2 days (Face to Face Training)
Make a booking enquiry

Mental Health First Aid Course -2 days (Face to Face Training)
Mental Health First Aid England accredited course– Launched and developed in 2007 by The Department of Health: National Institute of Mental Health in England (NIMHE) as part of a national approach to improve public mental health.
Stress, burn-out, anxiety and depression are affecting millions and we are all realising how important well-being at work is.
The workplace has changed considerably for people and organisations. In the last few years, we've seen a global pandemic, economic downturns, cost of living pressures, adaptation to hybrid working, the great resignation and a recruitment crisis. It has taken a toll on employees, and now – more than ever – they need mental health support in the workplace.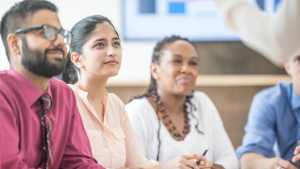 Being able to reduce stigma, raise awareness and support colleagues is crucial. By developing an inclusive workplace culture, productivity improves. Businesses are starting to realise that mental well-being isn't just a right, it's good for business.
This course is ideal for individuals who would like to become an MHFAider® to gain the knowledge and skills to spot signs of people experiencing poor mental health, be confident to start a conversation and signpost a person to appropriate support.​
Developed with clinical practitioners to ensure the best course content possible, everything taught is reflective of people's real lived experiences of poor mental health.
As a result, this course has proven to increase MHFAiders'® confidence in supporting people with mental health issues, meaning they can support your workplace more effectively in the long term.
This course prides itself on being more than just a course – it's a community which offers ongoing 24/7 digital support, three years certification and additional benefits.
So, what will the Mental Health First Aid Course teach you?
As an MHFAider® you will be able to:
Recognise those that may be experiencing poor mental health and provide them with first-level support and early intervention.
Encourage a person to identify and access sources of professional help and other supports.
Practise active listening and empathy.
Have a conversation with improved mental health literacy around language and stigma.
Discuss the MHFAider® role in depth, including boundaries and confidentiality.
Practise self-care
Know how to use the MHFAider Support App®
Know how to access a dedicated text service provided by Shout and ongoing learning opportunities with MHFA England
Course Content:
The course is a two-day face to face course delivered to a maximum of 12 delegates so the trainer can keep people safe and supported while they learn. Plus, it enables the trainer to listen and respond to your organisational needs throughout the course and adapt accordingly.
Learning takes place through a combination of case studies, conversational practice, end of session quizzes, presentations and group activities.
Course takeaways: 
Everyone who completes this course receives:
A hard copy workbook to support their learning throughout the course.
A digital manual to refer to whenever they need it​ after completing the course.
A wallet-sized reference card with the Mental Health First Aid action plan.​
A digital MHFAider® certificate.
Access to the MHFAider Support App® for three years.
Access to ongoing learning opportunities, resources and exclusive events. ​
The opportunity to be part of the largest MHFAider® community in England.
The MHFAider Support App® provides training resources and ongoing learning opportunities so that delegates can improve their support skills on the job.  It also works to support the MHFAiders'® own mental health – the resources within can teach critical self-care skills, with the emotion tracker function allowing them to chart their own wellbeing.  It offers 24/7 text support for when MHFAiders® are feeling overwhelmed or need guidance for certain situations.
Becoming a qualified MHFAider®
Once you complete the Mental Health First Aid course, you can test your knowledge and build your confidence in your role as an MHFAider® with the internationally recognised MHFAider® qualification, RSPH Level 3 Award in Mental Health First Aid.
Duration: 2 days (6.5 hours per day)
Cost: One of the best value Face to Face courses available in Norfolk Individual delegate rate @ £295 plus VAT for OPEN Courses.
Please get in touch to discuss closed course options if you would prefer a course delivered solely for your employees.
For individuals and small groups, we are launching this course with our open course date of 12th & 13th September at Norfolk Police Training Centre. To enquire or book your place on this course, click here.
Duration: Full day (13 hours)

Location: available at your premises