Work Place First Aid (Approved Person)
Make a booking enquiry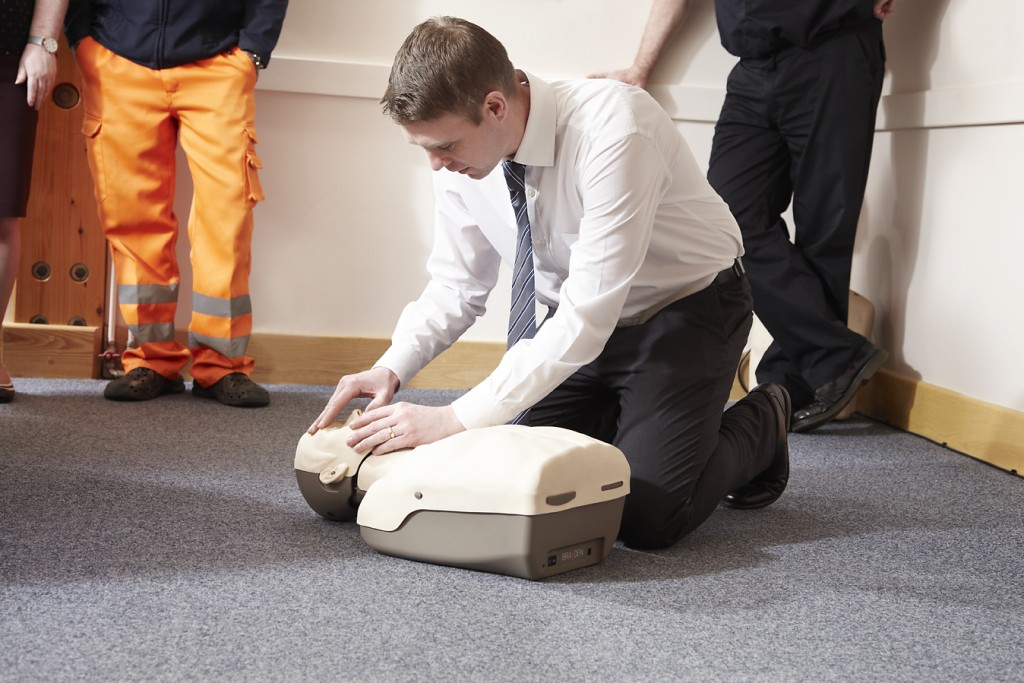 Objectives:
The delegate will be able to:
Understand the role and responsibility of a First Aider
Manage a first aid incident/emergency
Identify the level of the first aid required and appropriate course of action
Be able to administer basic life support techniques across a wide range of conditions
Effective incident reporting and communication/handover to emergency services
Course Content:
Introduction
Role and responsibility of a First Aider
Training subjects covered:

Accident reporting
Incident Assessment
Cross contamination prevention
Signs and symptoms
Minor injuries and foreign objects
Bleeding & Burns
Asthmatics
Diabetes (Hypoglycaemia)
Heat Exhaustion
Chest Injuries (Foreign Objects)
Pulmonary Embolism
Angina
Anaphylactic shock
Choking & not breathing (practical)
Spinal Injury
Shock
Poisons
Stoke (CVA)
CPR (practical)
De-fibrillation (practical)
Recovery position (practical)
First aid kit familiarisation
Recommended For: Relevant for nominated First Aiders in higher risk working environments e.g. Construction, manufacturing or chemical plants or where you require a broader knowledge to deal with a wider treatment of medical conditions.
Duration: Approximately 3 days
Certification:  Meeting the training legislative requirements of the HSE (Health & Safety Executive) a certificate of attendance will be awarded and a first aid guide issued compliant with UK and Valid for 2 years, yearly 1 day refresher training recommended.
Cost: £2,565 for up to a maximum of 12 delegates (£213.75 per delegate plus VAT) .
Open courses for individuals £225.00 per delegate plus VAT
Note: Due to the practical nature of this course we recommend that delegates wear flat shoes and trousers.
A light lunch and refreshments will be provided (please inform us of any dietary requirements)
Duration: Full day (3 days)

Location: available at your premises or our training facilities (see venues)