News
B2B Exhibition 2016
October 13th 2016, around 100 local businesses exhibited at Carrow Road football stadium, Norwich. The B2B Exhibition was created by the Norfolk Chamber of Commerce as an event dedicated to local businesses. Among the huge amount of exhibitors was Norfolk Safety CIC. Marketing their new First Aid and Fire Risk Assessment courses which were offered at a discounted rate until December 2016. The Exhibition was split into two floors: Anniversary Avenue & Business Boulevard each filled with exhibitors. The event was free to the public and was officially opened by BT Sports presenter Jake Humphrey.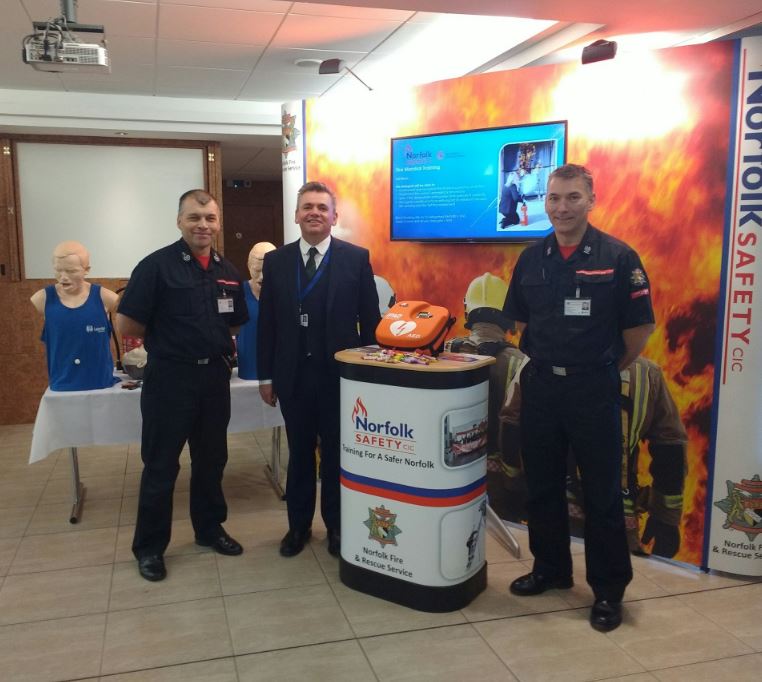 Chief Fire Officer Roy Harrold and Area Manager Garry Collins – Community Safety, came to show their support to the CIC.
Norfolk Safety CIC is the commercial training arm of Norfolk Fire & Rescue Service and provides Business Training Solutions to businesses across the county to try and create a safer working environment. Offering a wide range of courses in Fire Safety, First Aid, Evacuation & Fire Risk Assessing the CIC runs both bespoke and open training courses which are delivered by Norfolk Fire & Rescue Service Personnel.Norfolk Safety was established as a community Interest company and all profits made by the company are reinvested into community interest projects.
The exhibition saw a large number of people through the doors and gave a great opportunity for local businesses to network. Norfolk Safety CIC attended with the goal of reinforcing the importance of practical safety training to local businesses.
Glenn Floyd (MD) Said "It is really important for business's to be aware of what training and procedures they are required to have for the safety of their employees. We believe the only way to truly create a safe working environment is for staff to have practical training and this way they are more prepared in an emergency situation".
Featured courses
Duration: Full day (7 hours)
Location: On/Off Site
Objectives: The delegate will be able to:- Produce & maintain a current working Fire Risk Assessment Evaluate current fire safety measures within the workplace Gain an overview of the Regulatory…
Duration: Half day (3.5 hours)
Location: On/Off Site
Our Fire Marshal course is our most popular training course. Suitable as a refresher course for those who have previously had training or for new Fire Marshals. The course has…
iPAD SP1 Defibrillator Someone in the UK has a heart attack every 5 minutes. What price can you put on someone's life? Clear & User Friendly To Operate and…
Discover more »