News
Business Continuity "Don't wait until disaster strikes"
Normit Emergency Management & Business Continuity training.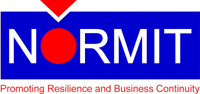 Planning to react when things go wrong is something that normally exists in one persons head and is not a primary concern until disaster strikes. I know as I have been guilty of burying my head in the sand believing the business could cope and would cope. I attended a Business Continuity Training Course yesterday and realised that should even the power fail for 4 hrs we/I do not have a plan to ensure the continuation of our service delivery. The course was informative and took all the dread out of preparing a Business Continuity Plan and Business Impact Analysis. The post training advice guidance and help is excellent and suitable for Micro, SME or large businesses. This is the solution for ensuring you are prepared and just as importantly making sure your staff are aware of what to do in an emergency no matter how large or small to ensure your business continues.
Highly recommended – Glenn Floyd MD Norfolk Safety CIC.
Please find below information and prices for the upcoming Normit Emergency Management and Business Continuity Training Courses that are provided, through Normit, by the Resilience Team of Norfolk County Council.
Managing Emergencies for Managers- 14th March 2017– Half day course including refreshments
We developed this course especially for managers or personnel who want to know more about the emergency management process and how their organisation may respond. Perfect for Resilience representatives/champions and Middle/Senior Managers.  On this course, you will learn to:
Understand how emergencies are managed and what your role in an emergency could be
Raise awareness of a manager's role in a multi-agency response
Increase your understanding of managing an incident, including the responsibilities of the strategic and tactical coordinating group.
Understand the recovery from an emergency and your role in this.
"Now have a much better understanding of how to manage an emergency at work"
"Very useful in developing our emergency response"
Only £75 per delegate.
Business Continuity Workshop- 30th March 2017 – This is a full day course including lunch and refreshments.
If you are a Business Continuity representative, or would like to find out more about the Business Continuity process, then this course is for you. The course content covers:
What is Business Continuity?
Stages of Business Continuity Management in line with the ISO / Good Practice Guidelines.
How to identify, prioritise, evaluate and mitigate risks to your organization.
What strategies can be implemented?
What facilities are needed to continue business through a crisis?
 How the BC plan is an important document in the process
 "A well-paced and informative course. Thank you"
"Provides a good overview of what can be a confusing subject"
Only £150 per delegate.
If you would like to book a place on these course, please contact normit@norfolk.gov.uk
Featured courses
Duration: Full day (7 hours)
Location: On/Off Site
Objectives: The delegate will be able to:- Produce & maintain a current working Fire Risk Assessment Evaluate current fire safety measures within the workplace Gain an overview of the Regulatory…
Duration: Half day (3.5 hours)
Location: On/Off Site
Our Fire Marshal course is our most popular training course. Suitable as a refresher course for those who have previously had training or for new Fire Marshals. The course has…
iPAD SP1 Defibrillator Someone in the UK has a heart attack every 5 minutes. What price can you put on someone's life? Clear & User Friendly To Operate and…
Discover more »