News
Norfolk Safety CIC & Norfolk Fire And Rescue Service Helps Sainsbury's Regional Leadership Team Tackle A Fire And Emergency First Aid Assault Course For Sports Relief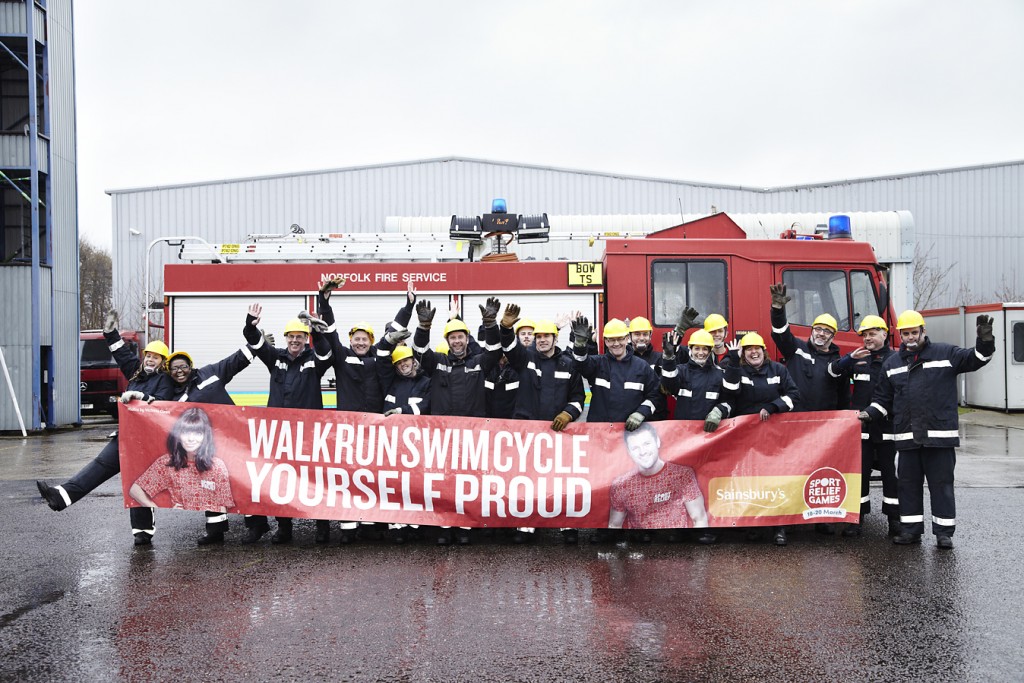 On probably the wettest day of the year (9TH March 2016) 20 eager but slightly nervous Sainsbury's regional leadership Store and Human Resource managers arrived at Norfolk Fire and Rescue Service's Bowthorpe Training Centre to take part in a competitive exciting and physically challenging Fire and Emergency First Aid Assault Course to raise money for Sports Relief.
After being approached by Sainsbury's, and to support the company's extensive support of Sports Relief, Norfolk Safety Community Interest Company, the commercial training arm of Norfolk Fire and Rescue Service,  agreed to host the event and put together a programme of challenging activities that were both exciting and informative for the Sainsbury's Regional, Store and Human Resource Managers.
The participants were kitted out in Fire Fighting protective clothing, briefed on safety and set five challenges. Using fire-fighting equipment and facilities they
Extinguished small live fires using the correct equipment and answering a team fire safety questionnaire.
Negotiated a confined space over 2 floors (rat run) with restricted vision simulating a smoke filled building. (A surprising real favourite of the Sainsbury's Teams)
Utilising Fire Fighting Hoses connected to a Fire Engine successfully moving identified targets. (Physically more challenging than most thought it would be)
Each individual team member, successfully clearing  a choking obstruction using Abdominal Thrusts, administer Emergency First Aid through CPR, Rescue Breaths and Defibrillation.
Connect and assemble fire service equipment and successfully ascend and descend a ladder on the Fire Service Training Tower.
Mike Green, Sainsbury's Store Manager Queens Road Norwich said, "We have had a marvellous day provided to us by Norfolk Safety CIC and Norfolk Fire and Rescue Service and are in awe of the fantastic job that our firefighters do on a daily basis to keep us safe. Over £200 was raised on the day which will go straight to sports relief."
Glenn Floyd, Norfolk Safety CIC Manager said "It was a pleasure to host this event knowing that the proceeds would be donated to Sports Relief whilst also conducting a dry run for our new Management and Team Building Fire and Emergency First Aid Assault Course. The teams all enjoyed the day whilst enhancing their safety training in a real Fire Training environment. Well done to all the managers who took part and congratulations to the winning team."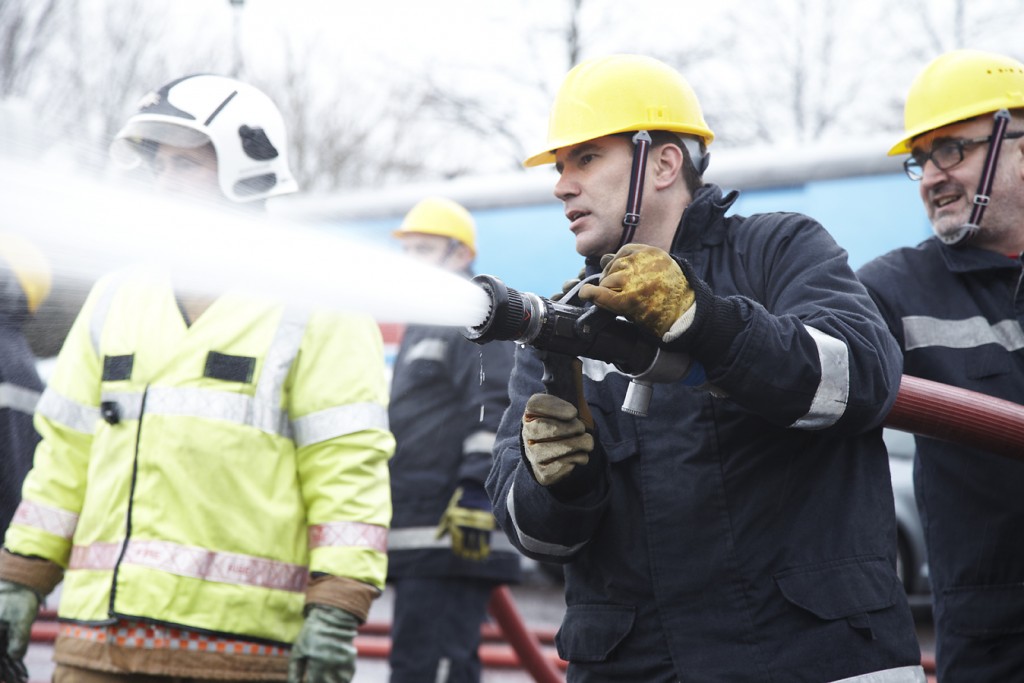 Other managers commented:
"Fantastic Day – I accomplished and overcame a fear of heights! Great course and delivery!")
"Brilliant, Thank you, Loved the Rat Run!"
"Brilliant Day, great Team Building Event, Thank you"
"Great Balance of Fun/Learning some valid points, taken away the intention to buy a fire extinguisher for home and certainly even higher respect for the Fire Services, Well Done"
Managers from the following Sainsbury's stores took part in the assault course:
Hunstanton
Attleborough
Bourne
Ely
St Stephens Norwich
Kings Lynn
Longwater Lane Norwich
Queens Road Norwich
Pound Lane Norwich
Sidney St Cambridge
Coldhams Lane Cambridge
Thetford
Stamford
Spalding
Bury St Edmunds
Haverhill
---
If you are interested in your own bespoke team building and management events please click here or contact us.
Featured courses
Objectives: The delegate will be able to:- Produce & maintain a current working Fire Risk Assessment Evaluate current fire safety measures within the workplace Gain an overview of the Regulatory…
read more »
Objectives: The delegate will be able to: Understand the role and responsibility of a First Aider Manage a first aid incident /emergency Identify the level of the first aid required…
read more »
iPAD SP1 Defibrillator Someone in the UK has a heart attack every 5 minutes. What price can you put on someone's life? Clear & User Friendly To Operate and…
Discover more »