News
Emergency Services OPEN Day 17 April 2019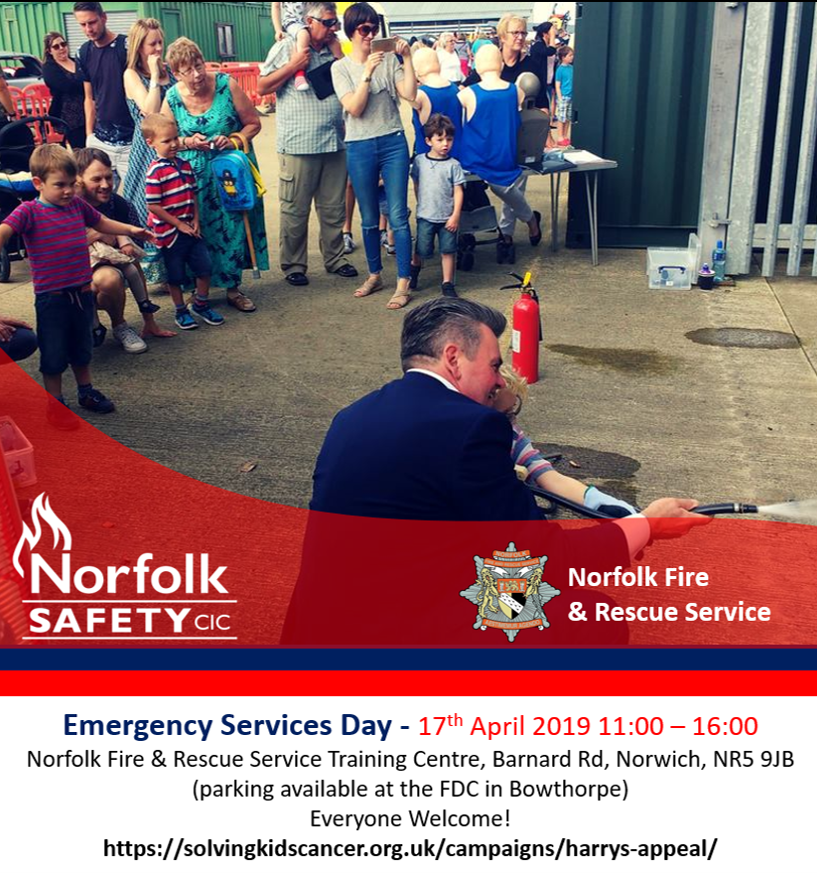 Norfolk Fire & Rescue Service are hosting an Emergency Services Day
17th April 2019 (11:00am – 16:00pm)
Norfolk Fire & Rescue Service, Bowthorpe Development Centre, Norwich, NR5 9JB
On the day the emergency services attending will be:-
Fire and Rescue Service
Police
Ambulance
Coast Guard
USAR
Fire Service Cadets
There will be a BBQ, Raffle, demonstrations from emergency services. Drinks and snacks. Fun games for the children…
Any money that is made from the event will be donated to 2 yr old Harry who needs to raise money for life saving treatment in New York.
Harry has Neuroblastoma and this brave little boy loves everything emergency service related.
https://solvingkidscancer.org.uk/campaigns/harrys-appeal/
You can follow Harry's journey and other events by liking his Facebook page https://www.facebook.com/HarryDeeba/
Norfolk Safety CIC will also be in attendance offering their new Smoke and Carbon Monoxide alarms at extremely competitive prices.
With each Smoke or Carbon Monoxide alarm purchased, Norfolk Safety CIC will donate a smoke alarm to the Norfolk Fire & Rescue Service Community Fire Safety team for them to be installed in the homes of the vulnerable.
Norfolk Safety CIC will also be demonstrating the use of Fire Extinguishers. Norfolk Safety CIC deliver a range of Fire Safety, Fire Risk Assessment, Breathing Apparatus and First Aid training courses to business in Norfolk and beyond. All profits generated by the delivery of training is then ring fenced into community interest projects.
The full range of course can be seen here
There will be no parking available at the Training Centre. There will be parking available at the FDC in Bowthorpe. People can park there cars there and walk to the Training Centre it is 10 minute walk.
The centre holds 300 people if we do happen to reach capacity it will then work on a one in one out basis.
Featured courses
Duration: Full day (7 hours)
Location: On/Off Site
Objectives: The delegate will be able to:- Produce & maintain a current working Fire Risk Assessment Evaluate current fire safety measures within the workplace Gain an overview of the Regulatory…
Duration: Half day (3.5 hours)
Location: On/Off Site
Our Fire Marshal course is our most popular training course. Suitable as a refresher course for those who have previously had training or for new Fire Marshals. The course has…
iPAD SP1 Defibrillator Someone in the UK has a heart attack every 5 minutes. What price can you put on someone's life? Clear & User Friendly To Operate and…
Discover more »