News
Happy New Year! 2019 OPEN Courses in Norwich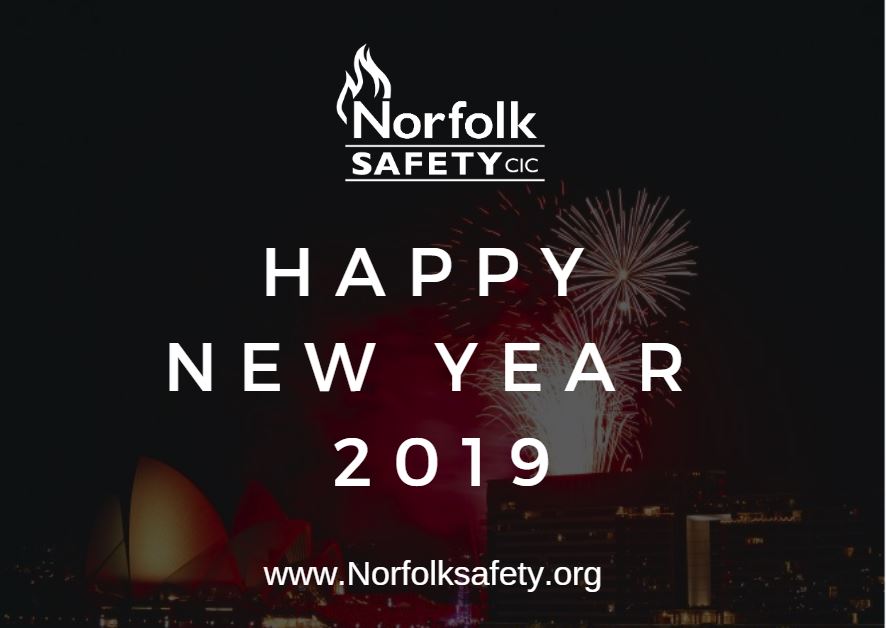 We would like to wish all of our customers existing and new a safe and happy new year.
Norfolk Safety CIC have a range of courses scheduled for the new year. More dates and courses including Fire Risk Assessment – Introduction Courses (click here for more information) and Emergency First Aid at Work (click here for more information) to be announced in the coming months…
OPEN Fire Marshal Courses at Bowthorpe are as below:
15th January 2019 (09:30) COURSE FULL
16th January 2019 (09:30) 
6th February 2019 (09:30) COURSE FULL
7th February 2019 (09:30) 
26th February 2019 (09:30) 
7th March 2019 (09:30) 
28th March 2019 (09:30)
9th April 2019 (09:30)
18th April 2019 (09:30)
7th May 2019 (09:30)
23rd May 2019 (09:30)
For an up to date list of dates and courses click here
Due to high demand our 2019 courses are booking up quick. Popular with schools, local businesses, charities and companies of all sizes and sectors our OPEN Fire Marshal courses are ideal for businesses who require training in and around the Norwich area. 
Our OPEN Fire Marshal course is ideal for companies who struggle to organize large groups of staff due to shift patterns or for small businesses who only need to train a few staff. Recommended for Trainee Fire Marshals with responsibility of evacuations and advisable for all staff as part of their fire training requirements ensuring cover is maintained and employee awareness.
The courses are held at the Norfolk Fire & Rescue Service Training Centre in Bowthorpe (Barnard Road, Norwich, NR5 9JB)
The course is 3.5 hours and costs £67.50 + VAT per person (charities are eligible for a 5% discount also)
This is inclusive of 2 year certification and a live fire extinguisher practical session where all delegates will be given the task of fighting a fire and selecting the appropriate fire extinguisher as well as fighting a chip pan fire with a fire blanket.
Objectives:
The delegate will be able to:
Understand and recognise the hazards posed by small fires.
Implement the correct emergency procedure.
Select the appropriate extinguisher and operate it correctly.
Recognise unsafe practices with regard to means of escape, fire warning and fire fighting equipment.
Course Content:
Introduction
Presentation
Training subjects covered:

Extinguishers (practical)
Fire blankets (practical)
Basic first aid (burns)
Process of fire and fire development
When and how to fight a fire
Door opening procedure
Identifying fire hazards
Control measures Fire legislation
Induction procedure
Evacuation Procedures

Outdoor practical session – delegates extinguishing fires using different types of extinguishers and a fire blanket.
For all course information, objectives, pricing and more please view our course information by clicking here 
Norfolk Safety CIC also offer courses for large groups which can be conducted on the clients site at no extra cost.
Bespoke courses and other courses inclusive of Fire Risk Assessment – Introduction, First Aid, Evac-chair training and more are also available.
Please view our courses or contact us for more information.
If you require any further information, have any questions or wish to discuss your specific training requirements please contact us on 01603 964 833
On behalf of everyone at Norfolk Safety CIC
Happy New Year!
Featured courses
Duration: Full day (7 hours)
Location: On/Off Site
Objectives: The delegate will be able to:- Produce & maintain a current working Fire Risk Assessment Evaluate current fire safety measures within the workplace Gain an overview of the Regulatory…
Duration: Half day (3.5 hours)
Location: On/Off Site
Our Fire Marshal course is our most popular training course. Suitable as a refresher course for those who have previously had training or for new Fire Marshals. The course has…
iPAD SP1 Defibrillator Someone in the UK has a heart attack every 5 minutes. What price can you put on someone's life? Clear & User Friendly To Operate and…
Discover more »