News
Stay Warm and Stay Safe this XMAS – Fire Safety Advice
With Winter upon us and the temperatures dropping we will all be relying on heating at home to stay warm this Christmas.
While keeping our homes warm it is important to be aware of the dangers associated with Portable Heaters, Electrical Fires and Wood Burning Stoves.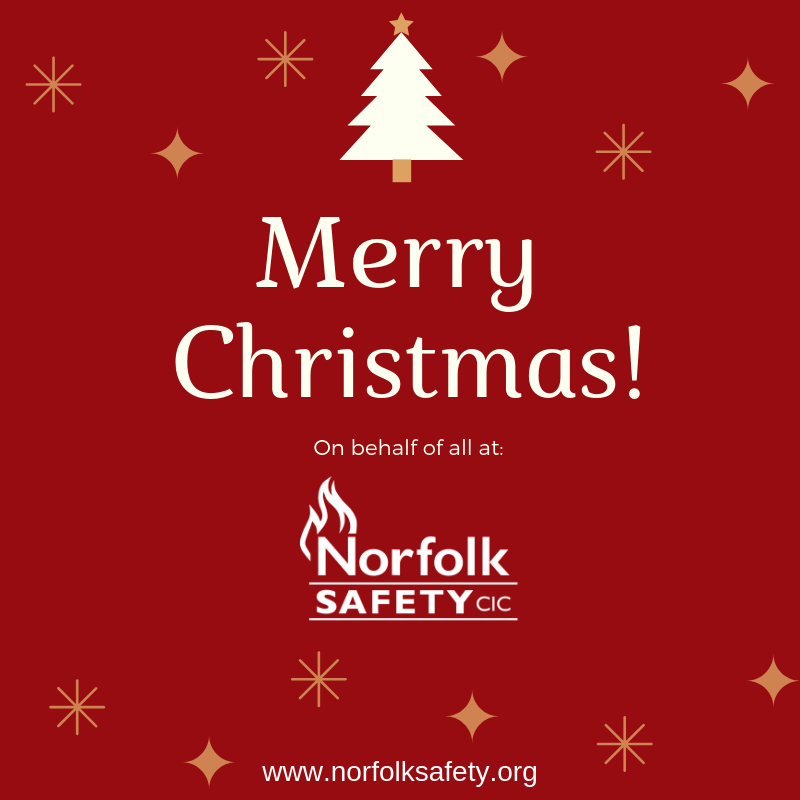 Portable heaters (Gas and Electric)
Portable heaters provide solutions to heating in multiple locations. They are quick and simple to operate and will provide good service if they are used carefully and sensibly. However, any type of portable heater can start a fire if it is misused.
Follow these common sense guidance to improve your fire safety with portable heaters
Portable heaters (all types):
Always follow the manufacturers operating and maintenance instructions. Keep them clean and serviced regularly. Pay special attention following a period of storage or after a seasonal break.
Ventilate rooms where the heater is to be used
Ensure a permanent safety guard is fitted. If the heater is to be used in one place, fix it securely to a floor or a wall.
Turn off portable heaters before going to bed at night
Do not move the heater while it is alight or switched on
Do not stand or sit too close, your clothing may melt or ignite
Do not place a heater too close to furniture, bedding, or curtains
Do not place heaters where they can be knocked over
Do not operate a heater from where a door could open on to it
Do not air, or dry clothing on heaters
Do not leave portable heaters on if young children or pets are left unattended
Do not use flammable adhesives, cleaning fluids or aerosol sprays near a heater
Remember that fumes given off from some products are heavier than air and will travel some distance
Portable Electrical Heaters
Buy a heater which carries the mark of the British Electrotechnical Approvals Board (BEAB)
Keep flexes as short as possible. Position the flex so that it will not cause a trip hazard, ensure it will not pass under doors or carpets. Never operate with worn or damaged flex.
Ensure that the flex is not exposed to the heat from the appliance or from high temperatures from other sources
Check and fit the correct rated fuse in the plug
Plug the heater directly into the mains socket and avoid using multi-way adaptors. Unplug when not in use.
Do not control a radiant heater with a timer switch or a thermostat unless fitted as an integral part of the heater
Portable Gas Heaters
There are now many forms of powerful domestic heaters available, which are fuelled by liquid petroleum Gas (LPG).
Buy a heater that carries the kitemark of The British Standards Institution
Ensure a CORGI qualified person services the appliance regularly
Change cylinders in the open air. If this is not possible then open windows and doors to increase ventilation. Extinguish other heaters and all other ignition sources, eg cigarettes and pilot lights on cookers. Keep smokers away.
Never change a cylinder on a stairway or on an escape route
Check that the valve on the empty cylinder is fully closed before disconnecting the heater. Do not turn on valve of the new cylinder until the heater is securely reconnected.
If you suspect a leak do not operate the heater. Remove it to a safe place outside the building. Brush soapy water onto the flexible hoses and valve assembly. This will show any leak by 'bubbling'. The equipment should not be used until all leaks have been rectified by replacing faulty parts in accordance with the manufacturers instructions.
Take extra care with small camping heaters designed for use with a pierceable cartridge. Before removing it, ensure the cartridge is empty and the heater valve in the off position. Check that the sealing washer is intact before fitting the new cartridge.
Store spare cylinders separate to the heater in use. Keep them outside and in an upright position. Never store them in basements or cupboards under the stairs, or near to electrical switchgear or meters.
If you use a portable gas heater, please bear in mind that for every KG of gas used, one litre of water will be given off  which will form as condensation, may cause issues with damp and mould, and may lead to further health issues.
Halogen heaters
A Halogen heater is a lightweight device that can be plugged into an electrical source and provide warmth in enclosed areas. It uses halogen elements rather than electrical coils. They should not be placed too close to combustible materials and should be at least one meter away from chairs and armchairs if being used. Most halogen heaters are equipped with a casing that remains cool to touch, as well as an automatic shut down in the event that the device is accidentally tipped over. There is a decreased chance of any occupant or space getting burned or the device tipping over and causing a fire and is a safer option then some heating devices. However, like all sources of heat care should still be taken whilst using them to heat your home.
With more and more electrical appliances and gadgets becoming affordable, great care should be taken to ensure we do not create dangerous environments with the misuse of electrical equipment.
Every new electrical appliance should have a fused, moulded plug. Plugs and adapters should conform to British Standard 1363 and carry the kitemark, which shows the plug design has been tested and passed by the British Standards Institute.
Before you buy or use:
Follow these common sense guidance to improve your electrical safety.
Check the item is certified and bears the CE mark or the British standards kitemark. These may be supplied on paper depending on the item.
Ensure that the appliance will be used for the purpose it was designed for and that it will be used in the correct environment. Fairy lights for a Christmas tree are not suitable as outside tree decorations.
Check the correct rated safety fuse is fitted. Never replace a fuse with a higher rated one.
Appliance misuse is the top cause of all fires in British homes and the number has increased by over a third since 2009.
Millions of people are committing basic electric safety 'blunders' in the home without realising that they are exposing themselves to the risk of fire or electric shock. These include:
Using the microwave as an additional surface and blocking air vents
Leaving the tumble dryer running unattended or overnight
Blocking air vents by failing to clean behind the fridge/freezer
Overloading adaptor sockets
Leaving electrical appliances on while unattended, only to be alerted by a burning smell or worse not being alerted or woken at all
How to be safe with electrics in your home
Carry out a visual check of your electrics every six months – the Electrical Safety Council have a free smartphone app to check your home.
Use an RCD (Residual Current Device).
An RCD is a life-saving device which is designed to prevent you from getting a fatal electric shock if you touch something live, such as a bare wire. It provides a level of protection that ordinary fuses or circuit breakers cannot.
Don't overload plug sockets
Regularly check for worn or frayed wires
Buy electrical chargers from a reputable source
Keep appliances clean and in good working order
Keep combustible materials away from sources of heat and make sure that the area around your electrical intake equipment (often found in under-stairs cupboards) is clear
Unplug your electric blanket before going to bed (unless it has a thermostat for safe all-night use)
Don't leave electric blankets folded as this can damage the internal wiring, store them flat or rolled up instead
Try not to buy secondhand blankets and check regularly for wear and tear
Avoid using foreign appliances in UK sockets unless they have been converted for UK use – we recommend you replace the appliance with a UK standard electrical product if the plug is not suitable for conversion
Ensure your home has a full periodic inspection and test from a registered electrician
Avoid using faulty or damaged electrical appliances, lighting and sockets. If you think there is a fault with your installation or appliance, stop using it immediately and ask a registered electrician for advice
Don't run electric cables and flexes under carpets and rugs. They can wear without you knowing and cause electric shock or fire
Always use the correct fuses
Some appliances such as washing machines should have a single plug to themselves because they are high powered
Try to keep to one plug per socket and don't use block adaptors, we recommend trailing lead adaptors instead.
Look out for signs of dangerous or loose wiring such as scorch marks, hot plugs and sockets, fuses that blow or circuit breakers that trip for no obvious reasons, or flickering lights
Unplugging or switching off appliances particularly when you go to bed helps reduce the risk of fire and saves money
The wood burning stove has increased in popularity over the past 25 years as an alternative to gas or electric systems. To reduce the likelihood of unwanted fires in your wood burning appliances, follow the guidance.
A competent engineer should install all wood burning stoves and boilers. To maximise the efficiency and prolong the working life of the appliance regular maintenance should be undertaken. The company that supplied the appliance is usually the best source for this routine or specialist servicing, but an alternative can be found on the HETAS website.
Regular use:
Ensure that correct ventilation is available when the appliance is in use
Wood-burning stoves and boiler appliances should only use the right quality of wood as recommended by the supplying company
Generally the wood should be dry, well seasoned. This is usually wood that has been kept dry and stored for about two years. A fair guide to the seasoning is the presence of drying-out splits in the ends of logs or timbers.
Avoid wet or newly felled wood as this will cause tars or creosote deposits to form in the burning appliance and chimney. Laminated chip boards are formed using binding glues that will also leave deposits.
For each period of slow burning (overnight) there should follow a quick burn to dry out any unwanted tar or creosote deposits. This will also warm up the chimney again.
Inspect the appliance regularly including the chimney and flues.
At the end of each burning season and at least once during the season the entire system should be cooled and thoroughly cleaned to maintain top performance
If you suspect that an unwanted fire has occurred, ring 999 and ask for the fire service
For more guidance and advice from Norfolk County Council and Norfolk Fire & Rescue Service please click here
For Fire Safety, Fire Risk Assessment, First Aid, Evacuation and more training please view our full range of courses 
Wishing you a happy and safe Christmas 2018 on behalf of all at Norfolk Safety CIC
Featured courses
Duration: Full day (7 hours)
Location: On/Off Site
Objectives: The delegate will be able to:- Produce & maintain a current working Fire Risk Assessment Evaluate current fire safety measures within the workplace Gain an overview of the Regulatory…
Duration: Half day (3.5 hours)
Location: On/Off Site
Our Fire Marshal course is our most popular training course. Suitable as a refresher course for those who have previously had training or for new Fire Marshals. The course has…
iPAD SP1 Defibrillator Someone in the UK has a heart attack every 5 minutes. What price can you put on someone's life? Clear & User Friendly To Operate and…
Discover more »