News
5% discount available to all Charities from 2018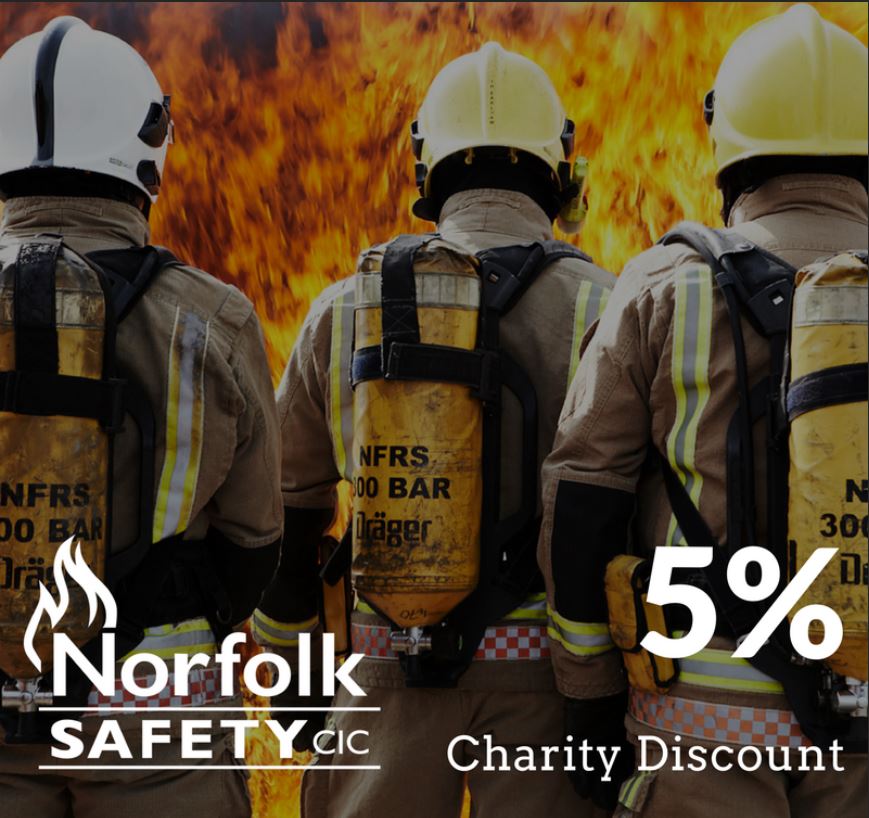 Charities will be eligible for a 5% discount on both full and OPEN courses delivered by Norfolk Safety CIC*
Norfolk Safety is itself a community interest company and recognises the tight financial squeeze on resources we all experience. This is especially evident when considering safety training that whilst is a legal requirement can cause a drain on limited resources. Our discount will not solve all your financial issues but will however, hopefully ease the financial pressure slightly when trying to be compliant with vital safety training.
Some charities have already taken advantage of our discount, as listed below:
Tracey (Big C Charity) – "Very Eye Opening – Really gets you thinking – Fire Marshal Course
Lorraine (Hebron Trust) – "Really Helpful. Thank you for being able to help with specific workplace scenarios" – Emergency First Aid at Work (1 Day Course)
Mandy (About With Friends) – "Enjoyed training and learned a lot, Thanks!" – Fire Marshal Course
Gary (Norfolk & Norwich Assoc. For The Blind) " Well Presented Course, Covering a large topic" – Fire Risk Assessment – Introduction (1 Day Course)
Save time and money by booking on to our Fire Risk Assessment Course which will equip you with the basic essentials to conduct your own Fire Risk Assessment providing an easy to follow template and Fire Safety Log Book.
If you are part of a charity and wish to discuss your training needs or book one of our courses, please don't hesitate to contact us 
For our full range of courses please click here
For our upcoming OPEN course dates please click here
*Please note the discount will NOT apply to Fire Extinguisher, Evac-Chair or Normit delivered courses. For Norfolk Safety CIC's full course booking terms and conditions please click here
Featured courses
Duration: Full day (6.5-7 hours)
Location: On/Off Site
The Emergency First Aid at Work (Approved Person) course is aimed at anyone looking to gain a basic level of First Aid training. The course meets the training legislative requirements…
Duration: Half day (3.5 hours)
Location: On/Off Site
Our Fire Marshal safety training is our most popular course. Suitable as a refresher course for those who have previously had training, or for new Fire Marshals. The course has…
Fire Chief Fire Blanket 1.2m x 1.2m The Norfolk Safety CIC Fire Marshal course teaches delegates how to safely and effectively use a Fire Blanket with practical training. We offer all…
Discover more »