News
Making Safety Personal: Regional DU takes 'shockingly crucial' steps to help ensure everyone goes home safe at the end of the day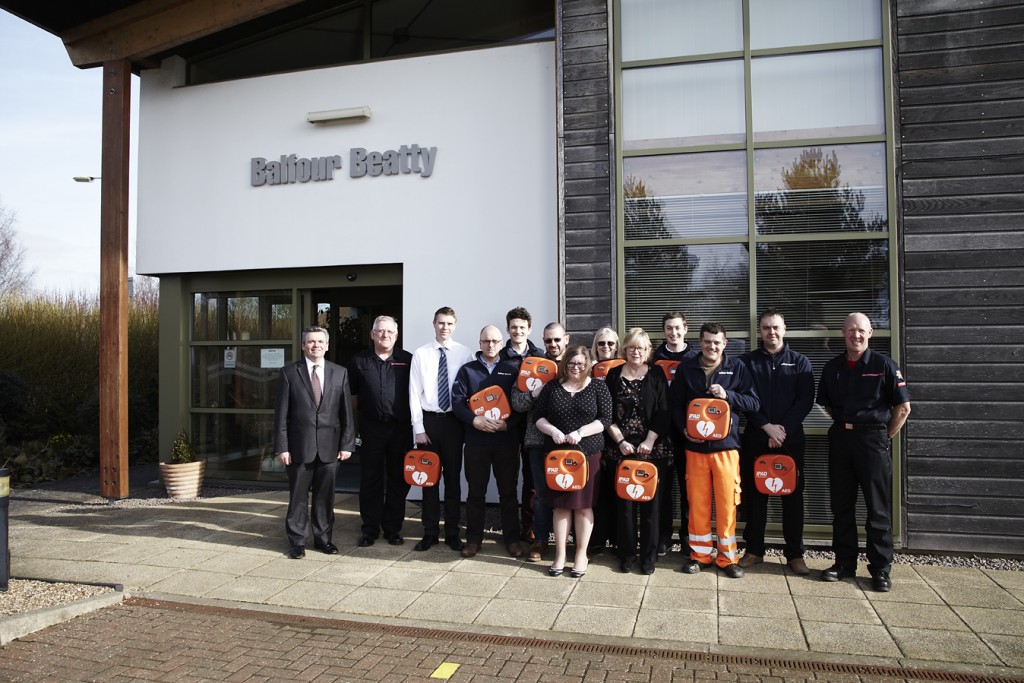 Staff from a cross-section of departments within the East Anglia South Midlands Delivery Unit (EASMDU) took important steps in ensuring that we go home safe at the end of each day, by participating in designated Emergency First Response – First Aid Training, in the use of defibrillators and CPR in the event of somebody suffering a cardiac arrest.
As part of a My Contribution idea from Adam Sheward: Quantity Surveyor based at the Swaffham office, his idea was approved to provide defibrillator units to each office and project under the EASMDU, coupled with the designated training to ensure staff members have the understanding and confidence to react in the event of a cardiac arrest.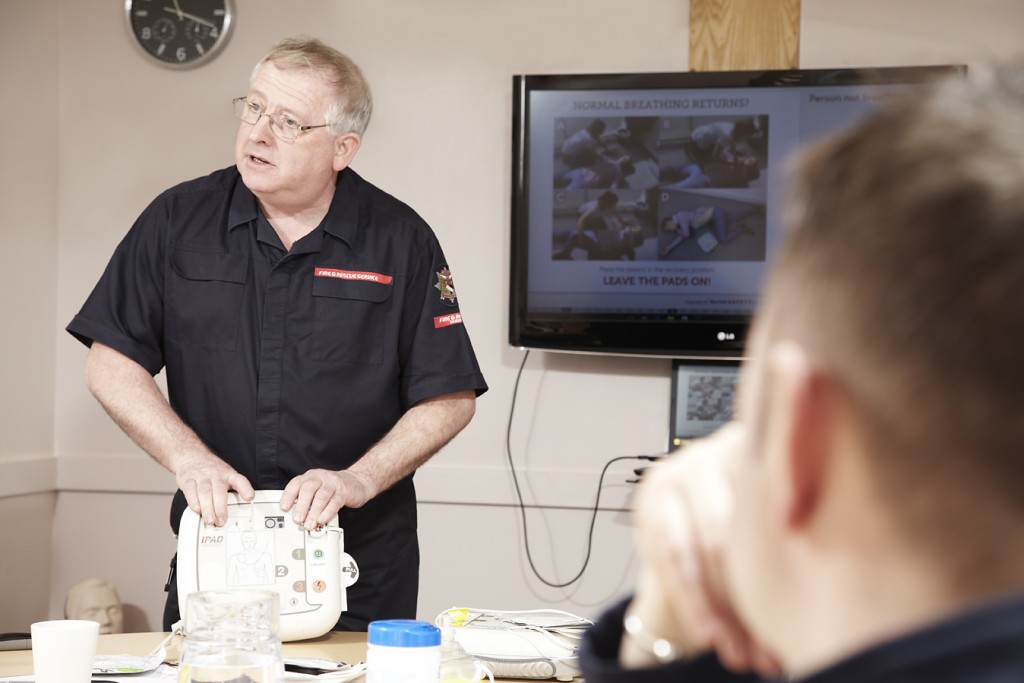 Adam made the following comment at the first of four initial training sessions:
"Having defibrillators to hand and providing knowledge of how to react should the need arise, provides us all a greater chance of achieving the objective of going home every day. In areas of the world such as Japan and Scandinavia, the chance of survival from cardiac arrest is vastly greater than that of the UK currently. This is due to the culture of people knowing what to do in those vital first minutes of (cardiac) arrest; effective and prompt CPR is a pivotal part of this with the defibrillator used in conjunction"
The training was opened up to non-first aiders as well as those already certified to engage staff members to allow everybody the opportunity to learn some of the fundamental principles of basic life support.
David Attfield: Senior Quantity Surveyor commented:
"As I am not first aid trained I was apprehensive my level of knowledge would impede my learning experience, however the professional presentation of the course, through a combination of interactive and practical exercises, catered for all levels of prior understanding of first aid and provided me with a new confidence that I could enter these situations and have a positive impact"
Furthermore, in support of our stakeholders, the provision of defibrillator units and training has been delivered in coordination with Norfolk Safety CIC: a not-for-profit organisation driven via Norfolk County Council and Norfolk Fire and Rescue Service.  NSCIC invest profits back into worthy community interest projects; such as installing smoke detectors and carbon monoxide alarms in the homes of vulnerable people within the community, youth employment initiatives and other good community causes. This further promotes Balfour Beatty's keenness to support our local community whilst providing key safety measures for our staff.
Glenn Floyd: Norfolk Safety CIC Managing Director commented:
"Adam's determination to see the provision of essential life saving equipment for his work colleagues, contractors and customers of Balfour Beatty alongside the companies pro-active approach to ensure everyone's safety and well being, has to be commended.
This forward thinking approach and attitude to staff and customer safety should be an example to others, ensuring the rates of survival if you suffer a cardiac arrest at Balfour Beatty sites has just increased by up to 50%!. It is also satisfying to note that as our profits are ring-fenced to community interest projects, the benefit of Balfour Beatty's action will continue and help to support good causes across the region."
Dean Burgess: EASMDU Managing Director was on hand when the first defibrillator unit and training session was delivered and expressed his support:
"I am in full support of the initiative to provide defibrillators to our offices and project sites. It is great to see staff from different parts of the business getting involved and I am pleased that the East Anglia South Midlands Delivery Unit is setting the standard in providing essential Health & Safety and life-saving equipment at Balfour Beatty places of work"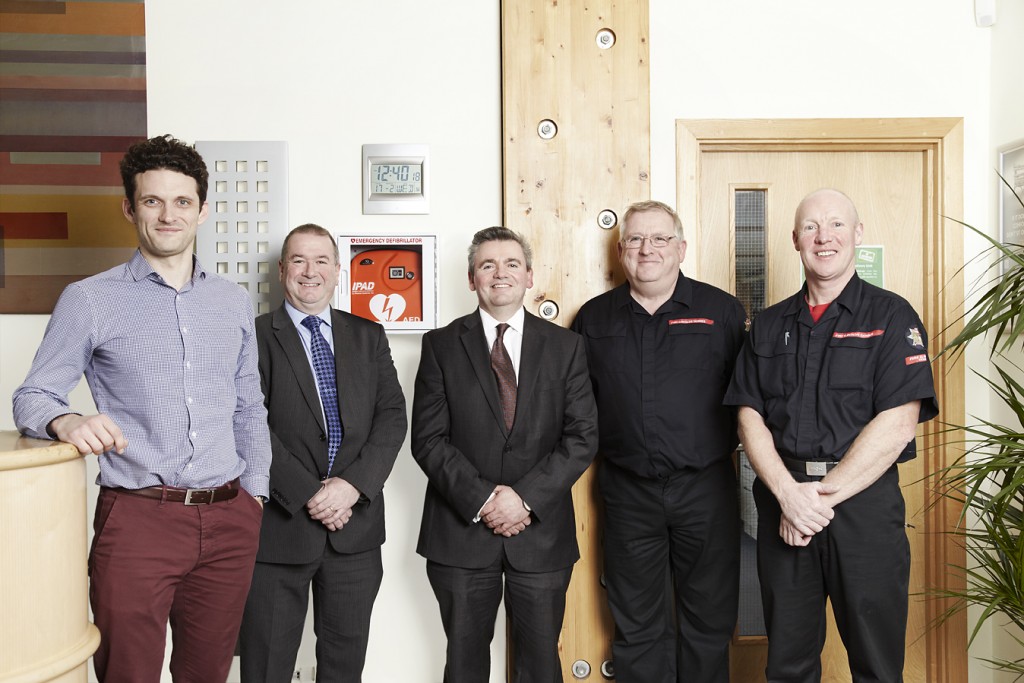 From left: Adam Sheward, Dean Burgess, Glenn Floyd (NSCIC), Ken Wallis-Gare (NFRS) and Neil Howes (NFRS).
---
If you are interested in the training or product reported in this article please feel free to contact us for more information.
Featured courses
Duration: Full day (7 hours)
Location: On/Off Site
Objectives: The delegate will be able to:- Produce & maintain a current working Fire Risk Assessment Evaluate current fire safety measures within the workplace Gain an overview of the Regulatory…
Duration: Half day (3.5 hours)
Location: On/Off Site
Our Fire Marshal course is our most popular training course. Suitable as a refresher course for those who have previously had training or for new Fire Marshals. The course has…
iPAD SP1 Defibrillator Someone in the UK has a heart attack every 5 minutes. What price can you put on someone's life? Clear & User Friendly To Operate and…
Discover more »